Public Events and Happenings!
All events are family-friendly and unique. We assure there will be many adventures for you to be a part of.
Need an easier way to keep up to date? Join our mailing list- it's free! We send one newsletter a month with event details and special offers. You don't want to miss out!
September 17th – SEDOL Making Strides for Special Kids 2022
Meet our Mermaid Princess and Island Princess from 8:45 am – 10:15 am
We are thrilled to be back LIVE this year, while continuing to offer virtual participation as well!  For those able to join-in-person at Independence Grove, there will also be games, Disney characters and a raffle. If you do not live in the area or are not ready to participate in-person you can run, walk, or ride where you are.  However you participate, you can make a huge impact in the lives of SEDOL students and families.
While the pandemic has affected everyone in the past few years, our students and their families continue to face significant challenges in 2022. Reduced access to school facilities for educational services, specialized learning equipment, and even food have created unmet needs for many students that are nothing short of unimaginable. Our SEDOL families' needs continue to be greater than they've ever been, we need your help more than ever.
Please join us for this wonderful event. You can sign-up on your own or even better, start a team and recruit your friends! Your power to make a difference in the lives of our special needs children is significant. As a fundraiser and/or team leader you can even designate where your money goes. For example, you can choose for the funds you raise to go toward adaptive equipment (voice output devices, adaptive trikes, etc.), a backpack program for children in need of food on weekends, camp scholarships, emergency funds for families, or a number of other specific projects.
For more information about the event, please visit the About Our Event tab above. 
Packet Pickup Required – Packet Pickup is on Thursday, September 15 from 12:00 noon – 7:00 p.m. at SEDOL Foundation, located at 18160 W Gages Lake Rd in Gages Lake.

September 29th – Princess Ladies' Night Out with the Mermaid Princess

Meet our Mermaid Princess from 5:00 pm – 7:00 pm

Event is from 4:00 pm – 9:00 pm
Bring your royal squad and little ones to enjoy a fun-due princess night out Thursday, 9/29!
Sure, we've done the Fondue Fairytale events for the little girls in the past, but why should they have all the dress-up fun? Don your best princess outfit and tiara and join us for the royal merriment!
One of your favorite childhood princesses from Fairytale Birthday Co LLC (shown) will be making a guest appearance between 5:30-7 pm.
Enjoy 3 courses from our BFFF menu – Cheese fondue, Salad, and Chocolate fondue for just $32/person. Upgrade to a 4-course with entrée for $44. NOTE: Our cheese and chocolate courses now include enhanced dippers!
You can bet your bippy there'll be drink specials, too, including $7/each Martinis – Love Martini, Blueberry Lemon Drop Martini, Chocolate Martini and Strawberry Blonde Martini
We'll have a costume contest and the grand prize winner receives a future dinner for 2; 2nd place – $50 dip certificate; 3rd place – Chocolate Fondue for 2 Also, be sure to enter a few optional contests like "What thingamabobs are in your purse?"
It's going to be a magical night at the Melting Pot!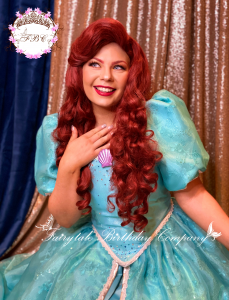 October 8th & 9th- Milwaukee Princesses at the Zoo – Presented by Pretty Princess Parties

NOTE FROM FBC : We are so excited to be working with Pretty Princess Party for their ball along with Illinois based company Fairytale Celebrations. Fairytale Birthday Company will be providing some of your favorite local performers as Characters at this event. For all questions regarding characters that will be present, tickets questions, parking, and more please reach out to Pretty Princess Party , the host of the event. We can't wait to see you there!
Time Slots:
Saturday: 10:00AM, Noon, 2:00PM, 4:30PM
Sunday: 10:00AM, Noon, 2:00PM
Please Click the Link to travel to Pretty Princess Parties Facebook event. There is where Ticket purchase links and information can be found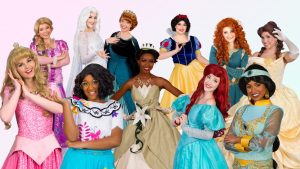 October 28th – Bayshore Boogie Bash & Costume Contest

Come celebrate Fall at the 3rd Annual BAYSHORE BOOgie Bash & Costume Contest!
Bring your princesses, monsters, goblins, and little characters for a free and fun family-friendly event in The Yard at Bayshore. Get ready to do the costume boogie with Kids Boogie Down who will also host costume contests and award prizes at 6:00pm! Dance with the Glass Slipper Princess, and two Evil Stepsisters presented by Fairytale Birthday Company, two giant Z-Bot LED Robots, and more! Enjoy laser light shows and bring your phone/camera to capture yourself in the not-so-spooky Halloween displays throughout The Yard.
Food Trucks & Pop-Ups: The Collective Marketplace, Cinnabar Nutrition, Kilwins, El Sazon Dominicano, Meat on the Street, Pedro's South American Food, Rose Mob Grill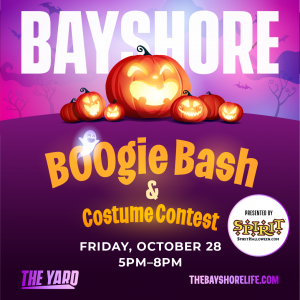 November 25th – City of Kenosha Christmas Tree Lighting
Meet our Frost Queen and Snow Princess from 3:30pm – 5:00pm

The Christmas tree lighting ceremony kicks off the holiday season as part of the "Lightin' Up" celebration downtown. Join us for a holiday program featuring musical performances and a visit from Santa, beginning at 3:45 p.m. with tree lighting at 4:30 p.m. This free family program is sure to put you in the holiday mood.
Each fall the City parks department harvests a Christmas tree donated by a local citizen. Typically, twelve hundred colored bulbs illuminate the City Christmas tree, with the museum campus beautifully decorated as well.
The Lightin' Up celebration continues downtown with family activities, live entertainment, and special promotions at Downtown businesses throughout the evening.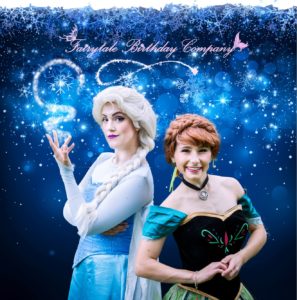 March 23, 2020 – POSTPONED – Culver's Family Night – 5:00 pm –  8:00 pm
Calling all Royals to Culver's Family Night (Waukegan IL)!
Our Beauty Princess will be waltzing again into Culver's to meet your little one. Children will enjoy photos with the Princess, Story Time, Singing, and perhaps Princess Lessons! All while your family enjoys yummy food from Culver's!
Don't forget your little one's royal attire to add to the fun! Make Monday night a family fun night to remember.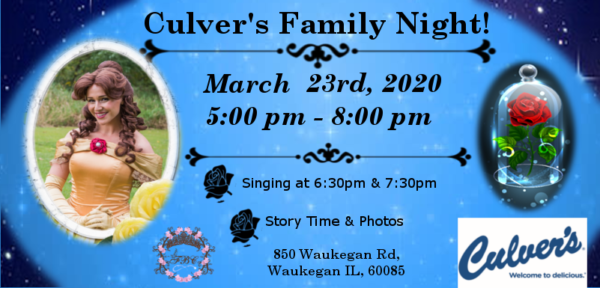 POSTPONED April 19, 2020 – Glitter & Hugs Party! – 10:30 am – 11:30 am
VIP Session: 10:15 am – 10:30 am – 11:30 am
Regular Session: 10:30 am – 11:30 am
VIP Session Tickets: $35.00 ( per child )
Regular Session Tickets: $25.00 ( per child )
**You must Pre-Purchase your tickets NO WALK INS!!**
Join us for a morning of fun at Anthony Vince' Nail Spa!
The gates will open at 10:30 am (early arrivals will not be let in) for the regular session. Children will enjoy meeting the Troll Princess and our Unicorn Princess, having their nails painted,create a themed craft, a Magical Makeover, photo opportunity, and story time.
Children in our VIP Session will enjoy everything in the general session plus extra time with our Princesses, receive a special Keep Sake, and enjoy a themed handmade bag!
**Children should arrive prepared with their hair clean and pulled up into a high ponytail, half up half down, bun, or pulled and pinned to the side.**
Space is limited. All tickets are non-refundable and must be purchased in advance. Adult must be present for the entirety of the party. Be sure to purchase fast as space fills quickly.
**All tickets must be pre-purchased and can not be purchased at the door.**
1️. Purchase Tickets by emailing us at FairytaleBirthdayCo@gmail.com
For Additional Questions Contact Us At:
1. 224-456-9303 (Please leave a message to receive a return call)
2. FairytaleBirthdayCo@gmail.com