Public Events and Happenings!
All events are family-friendly and unique. We assure there will be many adventures for you to be a part of.
Need an easier way to keep up to date? Join our mailing list- it's free! We send one newsletter a month with event details and special offers. You don't want to miss out!
 September 14, 2019 – Mount Pleasant Day 2019 – 11:00 AM – 4:00 PM
Princesses to Meet :  To Be Announced!

Free, block party-like, family-oriented event will be open from 11:00 AM to 4:00 PM at the Mount Pleasant Campus Park. Come join us for food, fun and activities for the whole family!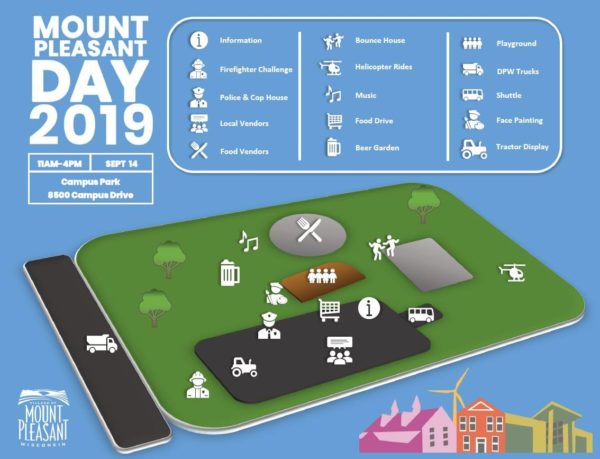 September 15, 2019 – Walk For Wishes Madison – 8:30 AM – 11:30 AM
Princesses to Meet :  To Be Announced! 9:00 am – 11:00 pm

Walk For Wishes® is a nationwide Make-A-Wish® fundraiser that celebrates the more than 300,000 wishes that have already been granted, while raising funds for future wishes. It's a family-friendly event powered by wish families, volunteers, companies, donors and friends.
Register. Sign up today and invite friends, family and colleagues to join your team. Go to wisconsin.wish.org/madison
Fundraise. Tell people why you are supporting Make-A-Wish and ask for their support. Make it personal to make it powerful. The more you collect the better the prize. Awards will also be given to the top fundraising team and our Spirit Award will be award to the top youth fundraiser (18 and under).
See the Make-A-Wish mission come to life and celebrate your fundraising success on Walk Day.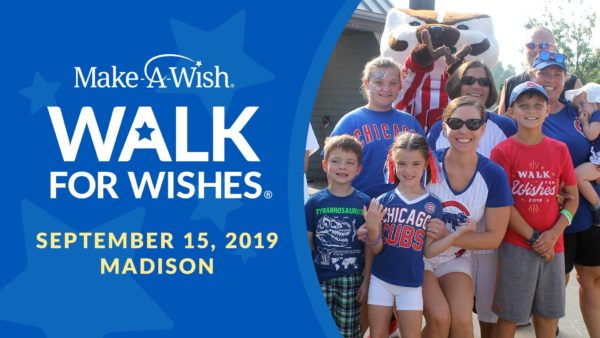 September 19, 2019 – Harborfest: Celebrating Racine – 4:00 PM – 7:00 PM
Princesses to Meet :  Glass Slipper Princess and Mystery Character from 4pm – 6pm !

Harborfest is a community event that is designed to bring together Racine and Kenosha counties. Think "Business Expo" but for nonprofits and education. They are allowed to set up tables sharing what they do, the services offered, how they can help people and how people can get involved.
​ Join us to find out about services that are provided in your community. Support organizations that enable a good cause for your neighbors. ​
Harborfest's mission is to engage the public by bridging communities through celebrating accomplishments and promoting opportunities and resources.
Free to the public, kids welcome, refreshments!
Please help us spread the word to your friends and nonprofits!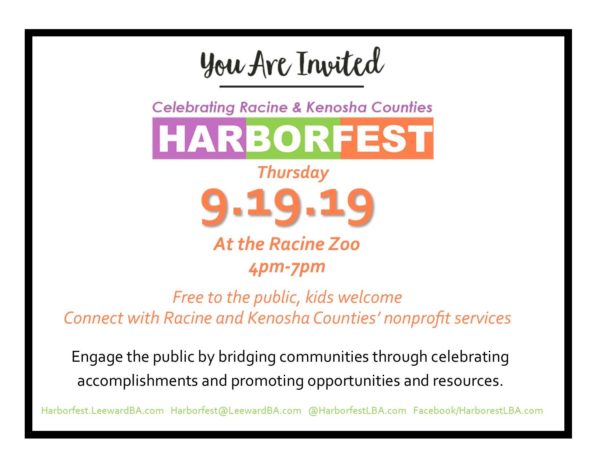 September 21, 2019 – Swim with a Mermaid at Goldfish Swim School – 3:30 PM – 5:30 PM
Swim with a Mermaid is presented by Lake Country Family Fun and sponsored by Goldfish Swim School and North Point Chiropractic located in Brookfield.
Swim with the Mermaid Anniyah or meet our Mermaid Octavia in her Glam Shell for Singing, Story Time, and Photo Opt!
Jump into fall and swim with a mermaid with Lake Country Family Fun at Goldfish Swim School in Brookfield this September! Mark your calendars for September 21 from 3:30 to 5:30 pm.
Families will need to pick a time to swim: 3:30 pm – 4:30 pm or 4:30 pm to 5:30 pm. There is a ticket price of $10 per family to attend. The first 50 families to sign up and register will receive a swag bag!
Not only can you swim with a mermaid, but you can have your picture taken with one, too! There will be two mermaids present. One will be swimming in the pool; while the other will be perfectly poised in her shell to capture beautiful memories with your little ones!
GRANT IMAGES PHOTOGRAPHY will be present at the event to capture these moments.
Also, outside the swim area will be complimentary refreshments for you and your family to enjoy. In addition to the complimentary refreshments will be Sugar Spun. SUGAR SPUN is an organic gourmet cotton candy, which is allergen and dye free.
Admission is $10 per family (children must be with their adults – this is not a drop off event), with 25% of the proceeds going to TALL PINES CONSERVANCY. Tall Pines Conservancy's mission is to preserve the rural heritage by protecting remaining farmland, water resources and natural areas and open spaces adjacent to and impacting Northwestern Waukesha County. We love swimming in both lakes and pools, so it's important to protect our natural resources in order to do so.
Sugar Spun will also donate 20% of their proceeds to Tall Pines Conservancy.
Please purchase your family ticket in advance. Tickets will not be available on the day of the event.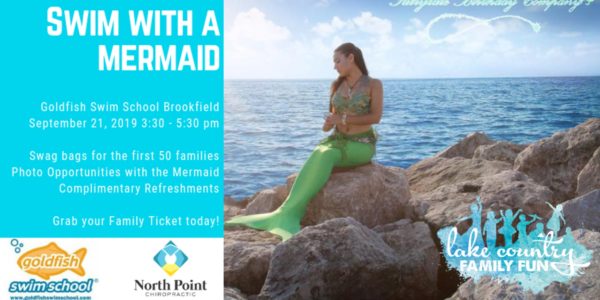 September 29, 2019 -Royal Princess Party – 10:30 AM – 11:30 AM
Join us for a magic carpet ride of a morning at Anthony Vince' Nail Spa!
Children will enjoy a performance by the Arabian Princess, Story Time with the Apple Princess, create a themed craft, have their nails painted, Princess Makeover with the Arabian Princess, an Apple Surprise activity, keepsake accessory & enjoy a themed handmade bag.
**Children should arrive prepared with their hair clean and pulled up into a high ponytail, half up half down, bun, or pulled and pinned to the side.**
Tickets: $35.00 ( 1 child and 1 adult )
Space is limited. All tickets are non-refundable and must be purchased in advance. Adult must be present for the entirety of the party. Be sure to purchase fast as space fills quickly.
You can purchase your tickets in 2️ ways!
All tickets must be pre-purchased and can not be purchased at the door.
1️. Purchase Tickets in Person at Anthony Vince' Nail Spa
11250 W. Burleigh St. Ste 100
Wauwatosa, WI 53222
2. Call Anthony Vince' Nail Spa to Purchase Tickets
(414) 443 -2025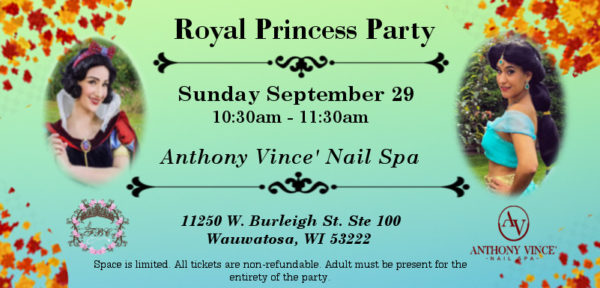 September 29, 2019 – Play & A Play  – The Three Billy Goats Gruff – 2:30 PM – 3:30 PM
The 3 Billy Goats Gruff — A Toddler Tale
All the three billy goats want to do is get across the bridge so they can eat the grass on the other side, but they think there's a grumbly, grouchy, bully of a Troll under the bridge who is determined not to let them pass. Well, actually, the Troll is not a bit mean— he just wants someone to play with! They do finally get across, but not until after they learn some manners–and they even make a new friend in the process.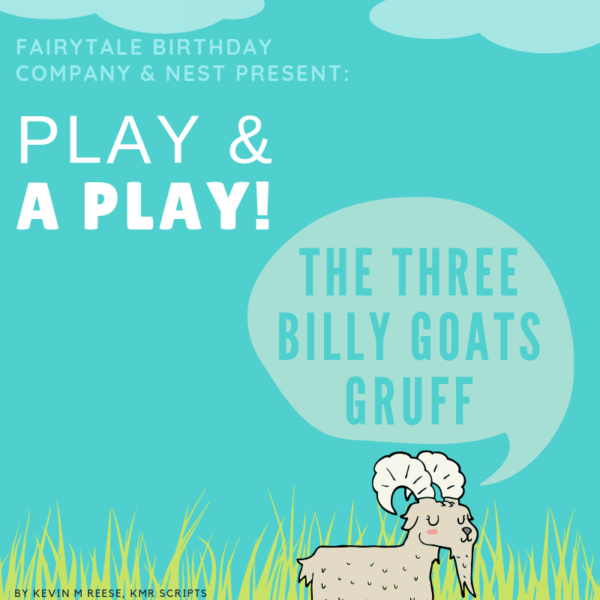 October 26, 2019 – Annual Mount Pleasant Ghost and Goblin Walk – 3:00 PM –6:30 PM
The Mount Pleasant Park's and Recreation Department along with the Citizen Academy Alumni group will be hosting the Ghost and Goblin Walk at the Campus Park (located across from the Sealed Air YMCA).
This family event is free to the public. Local businesses will be on site to pass out candy to all the ghosts and goblins. Music and other fun actives will be on hand to fulfill your night.
Pre walk from 3pm-3:45pm for individuals with special needs or disabilities.
For more information please see the Facebook page at
www.facebook.com/mpcommunitycrossroads
Costumes are highly encouraged.