Public Events and Happenings!
All events are family-friendly and unique. We assure there will be many adventures for you to be a part of.
Need an easier way to keep up to date? Join our mailing list- it's free! We send one newsletter a month with event details and special offers. You don't want to miss out!
Tuesday January 17th – Alice in Winter Wonderland – 6:00 PM – 8:00 PM

Join us for an unbirthday storytime at 6pm, followed by an outdoor glow stick dance party. At 7pm, we'll play "off with your head" trivia for adults. Enjoy tea, hot cocoa and cookies. Play chess and make crafts. Plus, snap a pic at our Cheshire grin photo booth or with the Queen of Hearts and Alice herself.
Part of West Allis Winter Week with West Allis Downtown BID.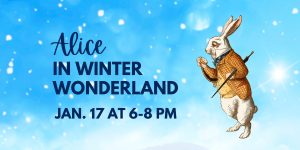 Sunday March 26th –

Milwaukee Fairytale Ball

 
Join our Princesses as we partner with Pretty Princess Parties for  an EXTRA special Fairytale Ball event!
A list of our provided Princesses will be listed soon!
This Pretty Princess Parties event begins with the Fairytale Princess Entrance of our Fairytale Friends. This is followed by a vocal performance and a dance performance featuring our princesses. Once our warm-up time is complete, the ball goes into full swing! The Fairytale Ball is FULL of princess interactions – photos, autographs, hugs, crafts, games and more! We Princess Promise your little one will have the opportunity to meet each and every character in attendance. To ensure everyone gets all the photos and hugs they need, the final 20 minutes of the ball are dedicated to "Love&Goodbyes" so no one feels like they need to rush out the door! Our event is created to please each and every guest, and we know you'll go home with a smile on your face and love in your heart!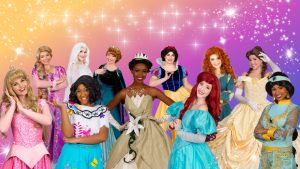 March 23, 2020 – POSTPONED – Culver's Family Night – 5:00 pm –  8:00 pm
Calling all Royals to Culver's Family Night (Waukegan IL)!
Our Beauty Princess will be waltzing again into Culver's to meet your little one. Children will enjoy photos with the Princess, Story Time, Singing, and perhaps Princess Lessons! All while your family enjoys yummy food from Culver's!
Don't forget your little one's royal attire to add to the fun! Make Monday night a family fun night to remember.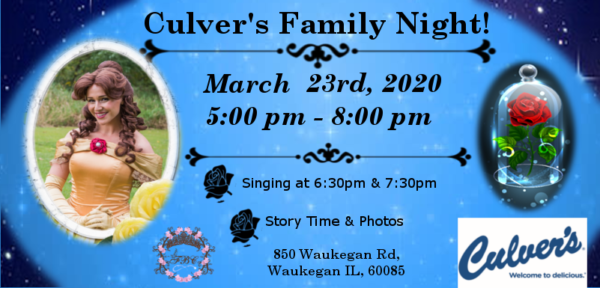 POSTPONED April 19, 2020 – Glitter & Hugs Party! – 10:30 am – 11:30 am
VIP Session: 10:15 am – 10:30 am – 11:30 am
Regular Session: 10:30 am – 11:30 am
VIP Session Tickets: $35.00 ( per child )
Regular Session Tickets: $25.00 ( per child )
**You must Pre-Purchase your tickets NO WALK INS!!**
Join us for a morning of fun at Anthony Vince' Nail Spa!
The gates will open at 10:30 am (early arrivals will not be let in) for the regular session. Children will enjoy meeting the Troll Princess and our Unicorn Princess, having their nails painted,create a themed craft, a Magical Makeover, photo opportunity, and story time.
Children in our VIP Session will enjoy everything in the general session plus extra time with our Princesses, receive a special Keep Sake, and enjoy a themed handmade bag!
**Children should arrive prepared with their hair clean and pulled up into a high ponytail, half up half down, bun, or pulled and pinned to the side.**
Space is limited. All tickets are non-refundable and must be purchased in advance. Adult must be present for the entirety of the party. Be sure to purchase fast as space fills quickly.
**All tickets must be pre-purchased and can not be purchased at the door.**
1️. Purchase Tickets by emailing us at FairytaleBirthdayCo@gmail.com
For Additional Questions Contact Us At:
1. 224-456-9303 (Please leave a message to receive a return call)
2. FairytaleBirthdayCo@gmail.com