We are taking a pause on our Princess of the Month in person appearance discount due to the present situation. But here is what we are offering to make each week a bit more exciting.
The following is an option for our new  Princess of the Month !
 Princess Special – $45.00 (You will receive a Zoom Visit and a Personalized Bag)
"Visits" will be taking place on Saturday, and Sundays. If you need a weekday please let us know so we can see if we can accommodate.
– 15 minutes long
– 1 Princess/Character to do a one on one visit with your child
– Questions answered for your little one
– Sing Along + can sing Happy Birthday
– Story read by the character.
But here is a look at our Princess of the Month information for future reference!
Enjoy 10% off your Fairytale Experience Package, Once Upon A Craft Package,  Balloon Twisting, or Face Bling when you book Lily the Fairy this month. Travel charges will still apply.
The best part is, that your party does not have to be in this month to book her! But it must be within the months of March 2020 – June 2020 for the special to be applied.
This offer can not be applied to already booked parties.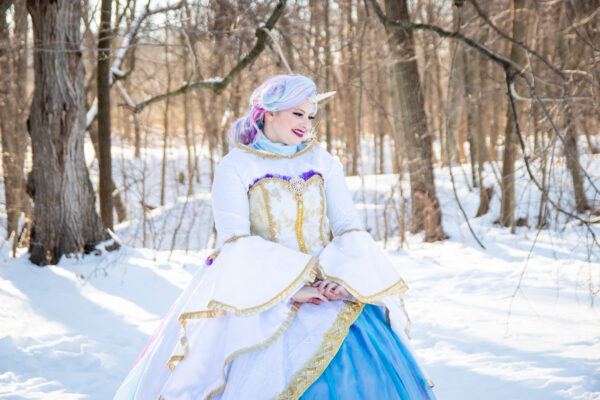 Unicorn Princess

* The options below are our 3 birthday packages that we are offering at this time. They have details outlining what is offered in each package. The price for them is fixed for parties of 15 children, which includes the birthday child, and parties that are 36 miles away. Any additional children will have a $2.00 charge. Additional rates for parties more than 36 miles away will be added on to cover travel costs. Please contact us for a free price quote for your party.
* When contacting to book or get a quote I will go further into detail, answer any questions or concerns, and adjust the price so it is personalized to your party. The details below are just a quick overview to help you decide which is the best option for you. I can also offer additional items to make your day unique.
* When you are ready to book you must pay a down payment. Once I have received your down payment I will send you an invoice. This invoice is proof  that your party has been booked.
* Party favors? Ask us about pompom wands and goodie bags!!!!
Princess of the Month - Fariytale Experience
Starting at $
151
(10% discount)
Princess of the Month - Once Upon a Craft
Starting at $
195
(10% discount)